Winning Cases
We Will Fight For Your Rights
Why Hire The Revill Law Firm?
Put Years of Experience on Your side
When you are facing a legal matter, it is only natural to feel overwhelmed or uncertain about the future. When choosing a lawyer to represent you, it is in your best interest to select an advocate who is not only highly experienced but has a proven history of success. At the Revill Law Firm, our Alabama lawyers have distinguished themselves in a number of notable ways, including garnering numerous awards.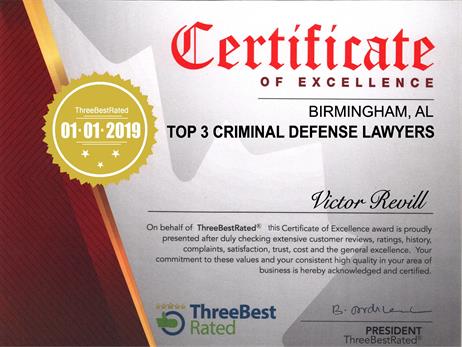 Why Hire Our Firm?
Years of Combined Experience
Available 24/7
Free Consultations
Award Winning Counsel
Proven Defense Strategies
Our team of attorneys understand how daunting facing a legal issue of any kind can be. That is why we walk you through every step of the process, proving personalized strategies and defense. When you come to The Revill Law Firm, you will never be just another number. We fight tirelessly for our clients, working hard to secure the best outcome possible on every case.
Our lead attorney, Victor Revill, has earned a reputation for being a fierce advocate to his clients both in and out of court. He is deeply passionate about defending the rights of those who have been accused of crimes. Attorney Revill's commitment to the success of his clients has captured the attention of many, and he has been recognized with such honors as:
The Client Satisfaction Award of the American Institute of Criminal Law Attorneys 2015
The Rising Star from Birmingham Magazine 2015
Top Civil Rights Attorney from Birmingham Magazine 2015
Top Criminal Defense Attorney from Birmingham Magazine 2012, 2014 and 2015
Get Help Today
Our Alabama criminal lawyers are willing and prepared to aggressively pursue the outcome that you need. Our level of dedication is unparalleled, and we are here to make sure that your rights are protected.
A Reputation of Excellence
Victor Revill is a native of Albany, Georgia. Mr. Revill serves his fellow Alabamians in the areas of criminal law. As a Birmingham criminal defense lawyer, Victor has gained a great reputation of being an outstanding litigator no matter what area of the law he is representing his clients in. He is known for being a great orator in the courtroom whom is extremely knowledgeable of the law.
Mr. Revill has received several awards for being a Top Criminal Defense and Civil Rights Attorney from organizations such as the Birmingham Magazine, National Trial Lawyers Association, Martindale-Hubbell, Who's Who, and various other organizations. In 2015, Mr. Revill was nominated for the "Community Justice Award" for all of his work throughout the state of Alabama.
He is a skilled and driven attorney whom staunchly advocates on behalf of his clients with zeal and passion. He is also the founder of the Revill Law Firm, a firm that continues to grow every year. Victor is licensed to practice law in the State of Alabama and in the Federal Courts for the Northern District and Middle District of Alabama.
Read More
Contact the Revill Law Firm
24 Hour Service & Free Consultations Available